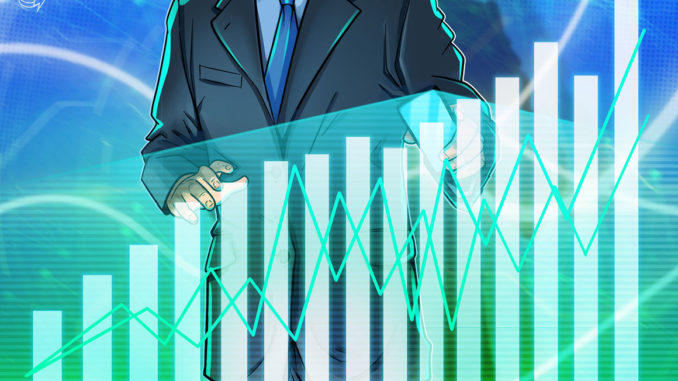 Centralized cryptocurrency exchanges (CEX) have received increased attention over the past couple of months as excitement builds over Coinbase's April 14 NASDAQ listing and the exchange's recent announcement that it pulled in $1.8 billion in revenue during the first quarter of 2021. 
Even as decentralized finance (DeFi) and popular decentralized exchanges (DEX) like Uniswap (UNI) and PancakeSwap (CAKE) attracted investors, high transaction costs and low liquidity on separate blockchain networks means that many crypto traders stick with CEXs for lower trading costs and the sense of security they offer. 
While Bitcoin, DeFi tokens and a selection of altcoins have garnered most of the media's attention, exchange tokens have quietly amassed impressive gains over the past few months.
Four exchange tokens that have seen significant gains of late are Binance Coin (BNB), KuCoin Token (KCS), FTX Token (FTT) and WazirX (WRX).

BNB/USDT
Binance continues to be the most dominant cryptocurrency exchange in the sector and that strength has been reflected in the growth of its native BNB token which has climbed 875% since Feb. 1 due in part to the rise of the Binance Smart Chain (BSC).
As the Ethereum (ETH) network continues to struggle with congestion and high transaction costs, BSC emerged to capitalize on the situation by offering low-cost fixed transactions that are paid with BNB.
This added layer of functionality for BNB has significantly increased demand for the token as it powers the Binance DeFi ecosystem and PancakeSwap DEX which is now the fourth-largest DeFi platform by total value locked according to data from Defi Llama.
With signs that trading volumes across the cryptocurrency are on the rise, there is a strong possibility that BNB will see further upside as the Binance ecosystem continues to expand and the Etheruem network continues to face difficulties with scalability and high fees.
KCS/USDT
KuCoin exchange was established in 2017 and operates out of the Seychelles. Similar to BNB, volumes for KuCoin Token (KCS) began to pick up in early February as the bull market began to gather steam.
Since Feb. 1, the price of KCS has increased nearly 1,000% from a low of $1.17 to a high of $12.96 on April 8, its highest price since January 2018.
The exchange has capitalized on the growth of DeFi by quickly listing popular and newly released tokens that would otherwise only be available on Uniswap and SushiSwap.
VORTECS™ data from Cointelegraph Markets Pro began to detect a bullish outlook for KCS on April 3, prior to the recent price rise.
The VORTECS™ Score, exclusive to Cointelegraph, is an algorithmic comparison of historic and current market conditions derived from a combination of data points including market sentiment, trading volume, recent price movements and Twitter activity.
As seen in the chart above, the VORTECS™ Score for KCS began to climb on April 2 and reached a high of 79 on April 3, roughly 34 hours before the price began to rise 90% over the next three days.
FTT/USDT
FTT is the native token for the FTX derivatives exchange which was launched in May 2019 by Sam Bankman-Fried and Gary Wang. 
The token has received increased attention in 2021 partly due to its association with the Serum (SRM) decentralized exchange.
Since trading at a low of $5.68 on Jan. 2, the price of FTT has skyrocketed 750% to a new all-time high of $48.62 on April 8. FTT received an added boost on April 7 when FTX announced an official partnership with the National Basketball Association's Miami Heat.
As the FTX ecosystem grows by combining derivatives, centralized and decentralized finance offerings, FTT token could see further appreciation. The token's utility and integration to FTX is quite similar to that of BNB, leading some analysts to suggest that FTT is undervalued. 
WRX/USDT
WazirX is a cryptocurrency exchange based in India that claims to be the fastest-growing crypto exchange in the country. The project is part of the Binance ecosystem, which helped start the exchange throughthe launch of a $50 million 'Blockchain for India' fund in March 2020.
Compared to other exchange tokens, WRX has been a slower mover in 2021 and price action for the token didn't really get moving until early April when the platform revealed that it would launch a decentralized NFT marketplace.
Trading volume and token price for WRX began to pick up on March 29 when WRX traded around $0.50 and the subsequent announcement of the NFT marketplace on April 4 led to a surge in activity that lifted WRX price more than 1,200% to an all-time high of $6.65 on April 5.
As activity across the cryptocurrency sector increases and billions of dollars worth in stablecoins are minted and deposited on exchanges, CEX tokens are well-positioned to see further growth.
The views and opinions expressed here are solely those of the author and do not necessarily reflect the views of Cointelegraph.com. Every investment and trading move involves risk, you should conduct your own research when making a decision.