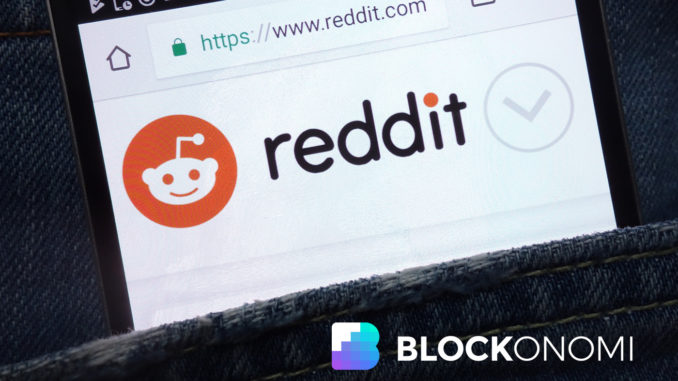 Reddit is looking for ways to use blockchain to expand its services, and ensure that people are able to freely express themselves.
The company has shown interest in blockchain in the past when it planned on introducing its own cryptocurrency to reward its users for engaging with the platform in March of 2020 and later in August when it launched the Scaling Bake-Off competition.
The popular online forum is working with the Ethereum Foundation to develop open-source scaling solutions for its platform. Many people are looking for new ways to store data, and Ethereum offers novel technology for a range of industries.
This competition allowed the Ethereum community to submit proposals on how to improve Reddit's crypto rewards program, with projects like OMG, Matic, and Solana taking part in it.

Reddit's Interest in Cryptocurrency isn't New
While this event showed the interest that Reddit had in rewarding its user with crypto for creating quality content and engaging with the community, there had not been official partnerships announced until now.
Reddit's experimentation with its own token has been limited to the r/Cryptocurrency and r/FortNiteBR subreddits, which is less than 1% of the total user base.
Now, Reddit has made its partnership with the Ethereum Foundation official in what seems to be aimed to take the next steps on the adoption of the reward program to the entirety of the platform.
Bringing Ethereum to Reddit-Scale Production
With this new partnership, Reddit is renewing its commitment to the blockchain to help Ethereum grow its development ecosystem while also escaping the rewards program introduced in the forums back in 2020.
A specialized team has been formed by Reddit to take care of everything related to cryptocurrency. As so, the company is currently looking for individuals interested in participating in the creation of "the decentralized Internet" and "bringing blockchain to millions of users.
According to "jarins", a member of Reddit's crypto team and administrator of the r/Ethereum subreddit, the intention behind the partnership is to accelerate the progress that is being made when it comes to escaping and developing the technology required to launch large-scale applications.
Reddit has committed to making all of the scaling technology that results from this partnership freely available and open-source for developers and companies around the world to take advantage of and improve.
While Reddit claims to have a decentralized mentality, and it does to an extent as its forums are organized in thousands of smaller communities with its governance and rules, the company still operates as a central authority and can moderate any of these communities at any given time.
With the events unfolding from the last Presidential election in the United States and the actions taken by tech giants like Facebook and Twitter, the debate around free speech and internet moderation has never been stronger.
While platforms like Parler promised their millions of users to be a bastion of free speech and offered a haven to those who left mainstream platforms, third-parties like Amazon Web Services added pressure on them to moderate their content or have their servers removed.
This denial of infrastructure and web services to seemingly unpopular opinions could push the development of new platforms that simply don't allow censorship of any kind.
A Move Away from Centralized Social Media?
These events are not new, as communities like 4chan have experienced a backlash in the past due to their lack of moderation and the type of content their users share, being even shut down in the past.
Decentralized social media platforms are gaining more attention as a result of these themes over the last months due to their inherent advantages when it comes to free speech.
Twitter is looking at the option of creating an alternative blockchain-powered decentralized platform by the name of Bluesky, although based on the company's record of censorship, a social media free-for-all with Twitter's dev team behind it seems like a longshot.
While the current global situation has proven to be fertile ground for the whole blockchain and crypto ecosystems, it is still unclear if this will result in the mass adoption of decentralized platforms.
1,993