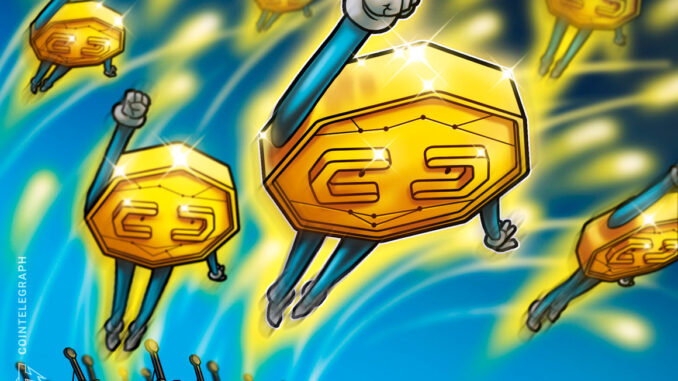 Data collection, aggregation and analysis have become some of the largest profit generators for companies like Facebook and Google who have designed an array of algorithms purposed with harnessing user data in order to better optimize the user interfaces of their applications and their online marketplaces. 
While collecting the data is the ultimate objective, the events of the past few years have also shown that securing it and ensuring that the privacy of customers and users is protected is imperative.
Combining data collection with the ability to securely store it on a distributed ledger seems like a natural fit, and Ocean Protocol (OCEAN) is one blockchain project that is looking to capitalize on the monetization of data.
Data from Cointelegraph Markets and TradingView shows that the price of OCEAN has increased 240% year-to-date as it rose from $0.31 on Jan. 1 to $1.38 on Feb. 12. Bitcoin's recent sell-off from its $58,300 all-time high, caused OCEAN to correct sharply but as the market recovered, the altcoin was able to secure a swing high at $1.19 on March 3. 

Three reasons for the continued strong performance for OCEAN include new listings at major exchanges, the integration of governance features with OceanDAO, and the growth of its data sets marketplace where token holders can earn a yield.
Major exchange announces support for OCEAN
On March 2 OCEAN announced that the token would be listed on Kraken which is the fourth-largest cryptocurrency exchange in the world.
Following the announcement, OCEAN price spiked 30% from $0.89 to a high at $1.16 and its 24-hour trading volume saw a 246% increase to $90 million.
VORTECS™ data from Cointelegraph Markets Pro began to detect a bullish outlook for OCEAN on Feb. 28, prior to the recent price rise.
The VORTECS™ score, exclusive to Cointelegraph, is an algorithmic comparison of historic and current market conditions derived from a combination of data points including market sentiment, trading volume, recent price movements and Twitter activity.
As seen in the chart above, the VORTECS™ score reached a high of 74 on Feb. 28, roughly 46 hours before the price spiked on March 2.
New governance features encourage community involvement
New features on OceanDAO appear to be the motivating factor for OCEAN's bullish price action as token holders have an increased say in the key decisions that guide the project.
OceanDAO was announced on Nov. 30, 2020, as a way for community members to get involved in the development of the protocol. It is a community-led funding project that allows token holders to vote on which projects should receive a DAO grant to help them build a new feature, conduct outreach marketing, or unlock data.
For voting purposes, each OCEAN token equals one vote, and those wishing to participate must do so from a wallet they control. The third round of voting on OceanDAO began on March 2, which also coincides with the increase in the altcoin's price and trading volume.
Oceans adds data set yield farming
The third force helping to drive OCEAN price higher is its expanding data sets marketplace that allows users to deposit tokens aearn a yield.
Originally launched as part of Ocean v3 in September 2020, Ocean Markets is an open-source community marketplace where users can publish, price, curate, discover, buy and consume data.
As the marketplace evolved so has its functionality. Currently, token holders are able to earn a yield on their tokens by staking them in a particular data set to earn liquidity provider fees.
Users looking for deeper involvement can also publish and sell data on the marketplace or build and launch their own market as a way to increase their earning capabilities.
The need for sourcing, distributing, and securing data is guaranteed to grow over the coming years and  Ocean protocol appears well-positioned to take advantage of this growing market. The inclusion of governance features and opportunities to earn a yield only make the project more attractive to investors looking to make strategic investments in the decentralized finance sector.
The views and opinions expressed here are solely those of the author and do not necessarily reflect the views of Cointelegraph.com. Every investment and trading move involves risk, you should conduct your own research when making a decision.