According to Santiment, an encrypted market data aggregator, approximately 90,000 Bitcoins have been accumulated by Bitcoin whales in the past 25 days.
Bitcoin whales refer to holders who hold Bitcoin (BTC) with a value of more than 100 to 10K. During the intraday trading, Bitcoin was trading at $39,208.60. Therefore, for Bitcoin whales, their worth at the current price value at least $3,920,860. The total amount of Bitcoin held by these "millionaire-level" addresses accounted for 48.7% of the Bitcoin supply.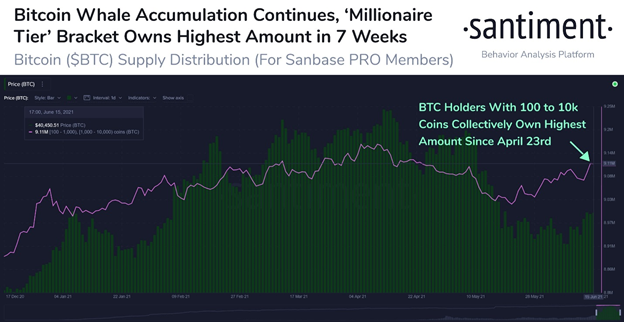 Source: Santiment

The data shows that Bitcoin whales have accumulated a large number of Bitcoin positions over 9.11 million BTC, worth $366.89 billion at press time, setting a high point in 7 weeks.
In addition, Bitcoin miner's outflow volume reached a monthly low of 47.163 BTC, indicate miners might still accumulating coins before engaging a better price to sell, acknowledged by on-chain metrics provider Glassnode.
At present, Bitcoin faces a headwind against strong selling pressure near the 200-Exponential Moving Average (200-EMA) level of around $40,876 and has not overturned this important level without any stable signal yet, turning these pressure into a support level.
200-day EMA is a critical indicator used for long-term trends. For example, when the Bitcoin price crosses its 200-day moving average, it is a technical signal that a reversal has occurred-meaning that it will usher in a new round of rising.
However, the increase in bitcoin giant whale holdings and miners are holding their tokens in anticipation of higher prices, proving that they are currently actively accumulating tokens and positive attitude towards the market outlook.
Image source: Shutterstock