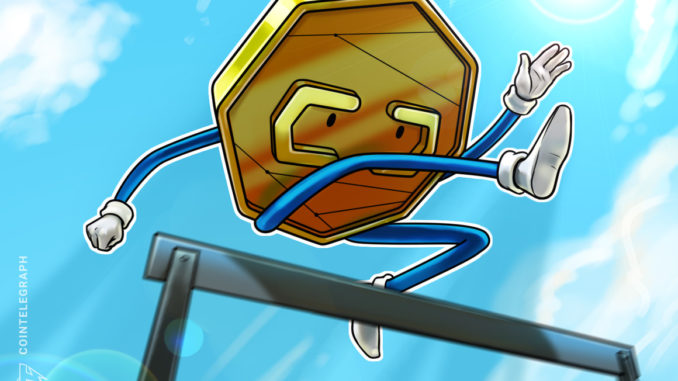 Major protocol upgrades are one of the most potent sources of price movement for cryptocurrency projects as community members and investors get excited about new features and traders rush in to "buy the rumor and sell the news". 
One protocol that has seen its price rise to new rights this week despite the overall bearish conditions affecting the market is Kusama (KSM), an experimental blockchain platform and a sister chain to the Polkadot's platform. Kusama is designed to provide an interoperable and scalable framework for developers.
Data from Cointelegraph Markets Pro and TradingView shows that after dropping to a low of $378 on May 10, the price of Kusama rallied 55% to a new all-time high at $591.55 today thanks to a record $1.568 billion in 24-hour trading volume.
Three reasons for the recent price appreciation for KSM include the upcoming launch of parachain auctions, recent integrations that helped enhance the interoperability of Kusama with other networks and increased opportunities to stake or lock up KSM to earn a yield.

Parachains are on the verge of launching
The most significant development for Kusama of late came on May 12 when the project announced that the most recent upgrade proposal was approved by the council and is now a public referendum.
BEAKING: Upgrade v0.9.1 passed council and is now a public referendum, fast-tracked to end Friday ~12pm CEST. This upgrade includes the code for parachains, auctions and crowdloans, reduces the min. vested transfer by 100x and reduces fees/deposits by 50x.ₑₓₚₑcₜ cₕₐₒₛ.

— kusama (@kusamanetwork) May 12, 2021
This development provided token holders a three-day window between May 12 and May 14 to vote for the different parachains, crowd loans and auctions that they want to see on the Kusama network.
Since KSM tokens are required to be able to participate in voting, demand for the token immediately increased following the announcement and it continues to rise on May 14 despite an overall downturn in the cryptocurrency market.
VORTECS™ data from Cointelegraph Markets Pro began to detect a bullish outlook for KSM on May 11, prior to the recent price rise and before the announced passing of upgrade v0.9.1.
The VORTECS™ Score, exclusive to Cointelegraph, is an algorithmic comparison of historic and current market conditions derived from a combination of data points including market sentiment, trading volume, recent price movements and Twitter activity.
As seen in the chart above, the VORTECS™ Score fluctuated in and out of the green zone over the previous week before climbing to a high of 70 on May 11 at roughly the same time that the price of KSM began to break out to a new all-time high over the next 32 hours.
Interoperability integration provides a spark
A second source for KSM's price growth over the past month was the April 23 announcement that Chainlink awarded a grant to ChainSafe Systems to help expand support for Kusama on the Chainlink Oracle Pallet.
We're excited to award a grant to @ChainSafeth for the expansion, improvement, & ongoing support of the #Chainlink Oracle Pallet, enabling devs to easily build hybrid smart contracts on @Polkadot & @kusamanetwork parachains as well as @substrate_io chains. https://t.co/wdXO6SwRKP

— Chainlink – Official Channel (@chainlink) April 23, 2021
As seen in the tweet, the expanded support enables developers to build hybrid smart contracts on DOT and KSM parachains along with other substrate chains, significantly enhancing their interoperability capability.
With one of the originally stated goals of the Polkadot network being increased interoperability across all blockchain networks, this development helped reassure community members that meaningful steps were being taken in regards to this goal by enlisting the most trusted and widespread oracle platform in the crypto ecosystem.
New staking and yield opportunities
A third motivating force behind demand for KSM is the attractive yield opportunities offered to token holders willing to stake their KSM tokens on the network or with new parachains.
Data from staking rewards shows that the average rate of return for staking and delegating KSM on the network is 13.72% while running a validator node earns 14.72%.
As part of the parachain auction process, projects like Karura have elected to conduct a crowd loan which involves community supporters bonding their KSM with that protocol for the duration of the parachain lease in return for the native token of the parachain.
Crowdloans and parachain auctions on @KusamaNetwork will start any day now!

We put together an overview of @KaruraNetwork, the DeFi Hub of Kusama, and the approach we're taking with the community to win the first parachain slot on Kusama https://t.co/r1zrW5KOK9

— Acala – DeFi Hub of Polkadot (@AcalaNetwork) May 13, 2021
The crowd loan allows the project to meet the requirements to obtain a parachain lease for a specified period of time and all KSM tokens are returned to the contributors after the lease is up.
In return for locking their tokens for an extended period of time, community members are rewarded with the native token of the parachain in question but lose the ability to earn KSM staking rewards.
The crowd loan model is an innovative new fundraising design for crypto projects that has excited community members who are eager to obtain their favorite KSM-based tokens while also being able to retain ownership of their KSM.
The views and opinions expressed here are solely those of the author and do not necessarily reflect the views of Cointelegraph.com. Every investment and trading move involves risk, you should conduct your own research when making a decision.