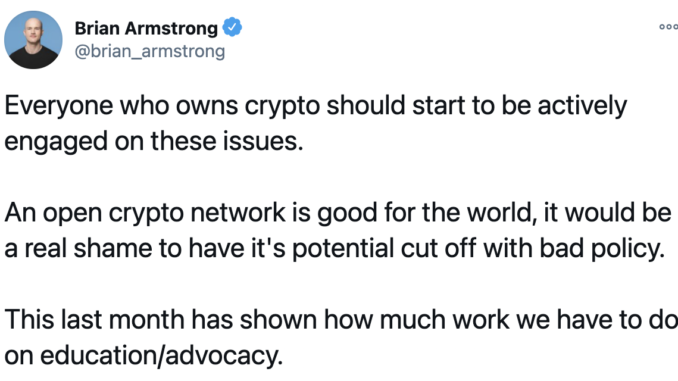 A number of players are encouraging individuals to speak out against FinCEN's new crypto rules before comments close next week.
Crypto exchange Coinbase and the foundation behind Monero are the latest firms to join in calling for crypto users to share their thoughts on the U.S. Treasury's Financial Crimes Enforcement Network's new rules. In a blog post today, Coinbase CEO Brian Armstrong said the proposal would represent "too big of an intrusion" on users' privacy, stating that crypto exchanges would need to collect and share names and addresses for anyone sending or receiving more than $3,000 in crypto in a single transaction. The CEO called on users to submit their thoughts to FinCEN before Jan. 4 when comments would be closed.
Monero Outreach issued a similar plea on Monday with seemingly more assertive language, specially requesting crypto users "voice their opposition" to the "dangerous new rules." The group claimed that once FinCEN had the necessary customer information, regulators would be able to track all user transactions without a warrant, data that could be potentially compromised.
"This [rule] not been required before, and it will not only threaten the privacy of every cryptocurrency user today, but it will also impede creative future uses of cryptocurrency," said Monero Outreach. "This is in an area that can easily go very wrong."

FinCEN proposed the new rule on Dec. 18, giving individuals 15 days to comment with their thoughts. If implemented, the rule would require registered crypto exchanges to verify the identity of their customers under certain conditions, including using "an unhosted or otherwise covered wallet" and if the transaction exceeds $3,000.
Coinbase chief legal officer Paul Grewal later responded that the deadline to provide feedback was inadequate given the holidays and the ongoing pandemic. He requested the regulator provide a 60-day period for comments on the proposed rules. At the time of publication, the Jan. 4 deadline is still firm.
Meanwhile, non-profit crypto advocacy group Coin Center is encouraging "everyone in the cryptocurrency ecosystem" to file a comment on the FinCEN proposal. More than 920 parties have already submitted their thoughts to FinCEN, including Blockchain.com CEO Peter Smith and Compound General Counsel Jake Chervinsky. In a Twitter thread, Chervinsky claimed the rule would not "stop the flow of funds to bad actors or help law enforcement do its job." 
Smith, on the other hand, sent his comment directly to Treasury Secretary Steve Mnuchin. In a blog post last week, the Blockchain.com CEO said he believes the rule needs additional consultation and review before being considered, given the potential impact:
"Crypto is a nascent and growing industry. We have talented teams and entrepreneurs across the United States who are innovating yet would buckle under the weight of this regulation."