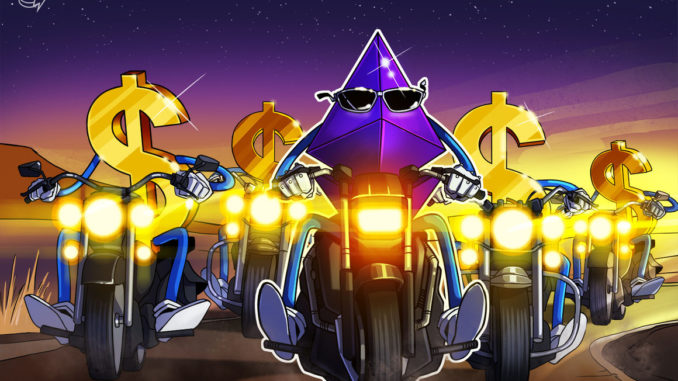 Ether (ETH) returned to $500 for the first time in more than two years on Nov. 20 as altcoins slowly staged a comeback from poor performance.
Ether price sees $500 after more than two years
Data from Cointelegraph Markets, Coin360 and TradingView showed ETH/USD briefly hitting the psychologically significant barrier in Friday trading before a rejection halted progress.
Despite being capped at roughly 6% daily gains at press time, Ether's achievement delighted traders, who noted that overall in 2020, the largest altcoin has outperformed even Bitcoin (BTC).
Year-to-date returns stand at 284% for Ether and 155% for Bitcoin.

Versus the pit of its price lows in mid March, just after the coronavirus-induced cross-asset crash, Bitcoin was still the strongest player. At the time, ETH/USD traded at just $117, making Friday's levels an increase of 327%, while BTC/USD gained 411% from $3,600 to $18,420.
Alongside the $500 visit — Ether's first since June 2018 — other major altcoins also showed signs of life, notably Litecoin (LTC), which with 12% gains outperformed Bitcoin on the day, and is the only major altcoin to outperform BTC in the past month — by 7%.
Earlier, Cointelegraph Markets analyst Michaël van de Poppe argued that a new "altseason" would need to wait, but that a realistic top for Ether's next bull run could be as high as $20,000.
In an interview with Van de Poppe for Cointelegraph, meanwhile, Nugget's News CEO Alex Saunders forecast ETH/USD beating its current all-time highs of $1,400 by the end of 2021.
Bitcoin rechallenges $18,420 peak
Bitcoin meanwhile firmly held the majority of attention on Friday, reclaiming $18,000 and continuing to hit resistance at its previous top of $18,420 from earlier in the week.
Anticipation of further gains remains strong, with 2017 highs of $20,000 forming the only major resistance level higher up the chart.
A reversal down, possibly to levels as low as $11,600, has yet to occur, with $17,200 now serving as a firm floor for bulls.