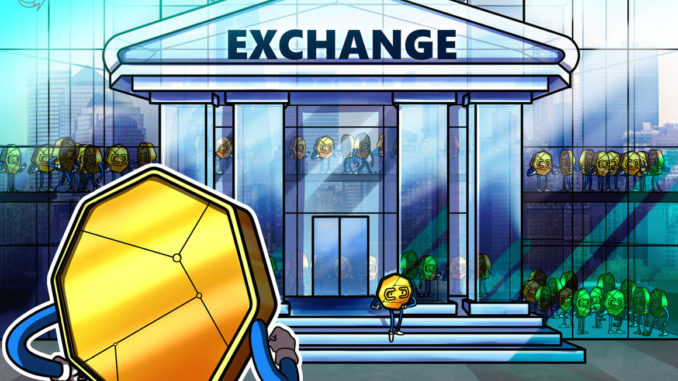 On March 23 the Coinbase listing 'bump' reemerged as the exchange announced that it would list Ankr (ANKR), Curve DAO Token (CRV), and Storj (STORJ) on Coinbase Pro.  
A blog post from the top U.S.-based cryptocurrency exchange stated that inbound transfers for ANKR, CRV and STORJ are available beginning March 23 with trading set to "begin on or after 9 AM Pacific Time (PT) Thursday, March 25, if liquidity conditions are met."
While there has been previous debate as to whether or not a Coinbase listing could still affect price movement in a positive way, today's announcement resulted in double-digit rallies for all three projects on an otherwise red day in the market.
ANKR/USDT
The Ankr network is a blockchain-based distributed computing platform that aims to create an easy and affordable way for developers to deploy multiple blockchains to leverage idle computing power from devices and data centers.

ANKR has been on a hot streak since the beginning of February, with its price skyrocketing 900% from a low of $0.011 on Feb. 1 to a record high of $0.109 following the announcement from Coinbase and multiple partnership announcements and protocol upgrades led to a steady increase in trading volume.
According to data from Cointelegraph Markets Pro, market conditions for ANKR have been favorable for some time.
The VORTECS™ score, exclusive to Cointelegraph, is an algorithmic comparison of historic and current market conditions derived from a combination of data points including market sentiment, trading volume, recent price movements and Twitter activity.
As seen in the chart above, the VORTECS™ score for ANKR began to pick up on March 18 and reached a high of 70, roughly 12 hours before the price increased 32% over the next two days.
Following a pullback in ANKR price on March 21, the VORTECS™ again began to climb and reached a high of 76 on March 23, five hours before the price spiked 36% following the listing announcement.
CRV/USDT
Curve Finance is an Ethereum (ETH) based decentralized exchange and automated market maker protocol that is powered by the CRV token. The primary goal of the exchange is to facilitate swaps between stablecoins like USDC, DAI and other ERC-20 tokens like WBTC and renBTC.
CRV token holders have the opportunity to stake their coins on the network and participate in governance votes directing the future development of the platform as well as receive a share of the fees generated by the protocol.
CRV benefited from the growth of decentralized finance (DeFi) during the first two months of 2021, seeing its price rally almost 600% from a low of $0.52 on Jan. 11 to a high of $3.67 on Feb. 6.
VORTECS™ data from Cointelegraph Markets Pro began to detect a bullish outlook for CRV on March 22, prior to the recent price rise.
As seen in the chart above, following a spike in the price of CRV between March 17 and March 20, the price began to fall while the VORTECS™ score began turning green late on March 20.
CRV price continued to decline over the next two days while the VORTECS™ score remained stable and turned green on several occasions, reaching a high of 66 on March 22, ten hours before the price would stage a 48% rally.
STORJ/USDT
Storj (STORJ) is an Ethereum-based token that powers a cloud storage platform called Tardigrade that uses a decentralized network of nodes to host user data in a secured way using advanced encryption.
When users upload files to Tardigrade, pieces of each file are distributed to the global network of independent nodes which store the data until someone requests a specific file, at which point it is securely recompiled and made available for download.
This process enables secure file storage without the need to trust a centralized data center such as the Amazon Web Services or the Google Cloud. Users of the network who contribute their resources like unused hard drive space and bandwidth to Tardigrade earn STORJ tokens as a reward.
Since reaching a low of $0.445 on Feb. 23 when the cryptocurrency market experienced a sharp correction, the price of STORJ has rallied 311% to a high of $1.83 on March 23 following the Coinbase announcement.
While the significant price growth over the past 24-hours for ANKR, CRV, and STORJ demonstrate that the Coinbase bump remains a potent source for price movement, a more significant driver of their price action has been the steady growth and adoption of project.
From cloud storage, computing power and unused bandwidth to decentralized finance and exchanges, decentralized networks are growing in prominence and strength with no signs of slowing down anytime soon.