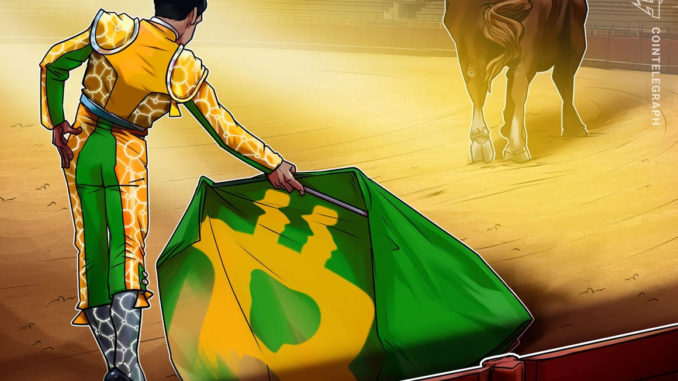 Over the past seven days, Bitcoin (BTC) has failed to break through the $48,000 resistance, but its price has remained flat even as Minneapolis Federal Reserve Chairman Neel Kashkari bashed the industry.
During an appearance at the Pacific NorthWest Economic Region Annual Summit on Aug. 17, Kashkari said:
"So far, what I've seen is […] 95% fraud, hype, noise and confusion."
Moreover, Kashkari specifically targeted Bitcoin when hementioned that its only use case has been funding illicit activities.
Even with the current pullback, Bitcoin investors should be glad that the $44,000 support held because the Federal Reserve also signaled its intent to unwind its $120-billion monthly purchases of Treasury and mortgage-backed securities.

With less stimulus to support the markets, investors naturally become more risk-averse, which could have caused a retracement in Bitcoin's price.
With that in mind, traders should be less worried about Friday's $600 million Bitcoin options expiry because when the markets hold during potentially negative news, it can be interpreted as bullish.
The call-to-put ratio currently stands at 1.43 and favors the neutral-to-bullish call options. This data reflects the 7,838 Bitcoin call options stacked against the 5,465 put options.
Bulls seem confident in the $44,000 support
Currently, there are less than 17 hours until Friday's expiry, and there is a slim chance that a $50,000 call option could be of any use. This means that even if Bitcoin trades at $49,900 at 8:00 am UTC on Aug. 20, these options become worthless.
Therefore, after excluding the 3,700 ultra-bullish call options contracts above $50,000, the adjusted open interest for the neutral-to-bullish instruments stands at $190 million.
An expiry price below $48,000 reduces this figure to $138 million. If bears manage to keep Bitcoin trading below $46,000, only $67 million of these call option contracts will take part in Friday's expiry.
Lastly, the bull's worst-case scenario happens below $44,000 because it wipes out 83% of the neutral-to-bullish call options to leave a meager $24 million open interest in their favor.
Related: Bitcoin slides with S&P 500 as Fed signals tapering $120B monthly bond purchases
Bears need BTC price below $45,000 to balance the situation
Bears seem to have been taken by surprise because 73% of the protective put options have been placed below $44,000. Consequently, the instrument's open interest would be reduced to $65 million if the Bitcoin expiry takes place above that threshold, and this would give bears a $41 million advantage.
By keeping Bitcoin price below $45,000, bears might keep the open interest virtually balanced between call options and protective puts.
Ultimately, an expiry price above $46,000 increases the bull's advantage to $105 million, which seems like a good enough reason to justify increased buying pressure ahead of Friday's expiry.
The views and opinions expressed here are solely those of the author and do not necessarily reflect the views of Cointelegraph. Every investment and trading move involves risk. You should conduct your own research when making a decision.