Bitcoin fell below the $30,000 support level for the first time in four weeks. Attributed to the lack of institutional demand for Bitcoin and the large-scale sell-off of the safe-haven Bitcoin caused by the epidemic, the downward trend may be further exacerbated.
Bitcoin has dropped 5.78% during the last 24 hours and has decreased by 10.39% with a week. At the time of writing, Bitcoin was trading at $29,862.62 during the intraday.
Since mid-May, Bitcoin has been locked in a price range between $30,000 and $40,000 level. Due to China's strong measures to suppress cryptocurrencies, bitcoin briefly fell below the $30,000 mark on June 22. This is the second time Bitcoin has fallen below the psychological barrier of $30K since then.
According to a report released by cryptocurrency data provider Glassnode, the current Bitcoin price continues to consolidate with low volatility.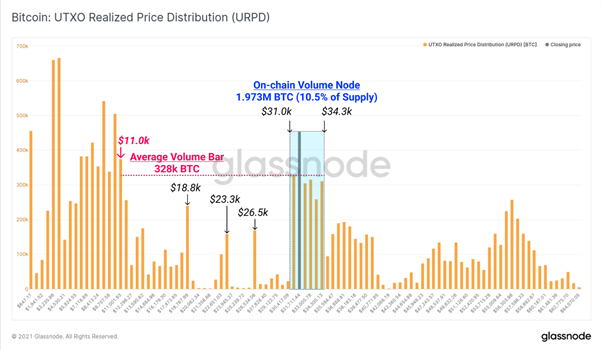 The UTXO indicator-a trading volume indicator displaying the chain's pricing range shows that more than 10.5% of the total supply of BTC with a total value of 1.973 million BTC trading between $31,000 and $34,300 level. This transaction volume is much higher than that of trading volume in the range between $50K and $60K.
At the same time, it is worth noting that not many trading supports above $18.8K. If Bitcoin falls further, the trading level of $26.5K will be the first supporting level, followed by $23.3K and $18.8K.
In addition, the market-board correction in May led to a sharp drop in interest from institutional investors.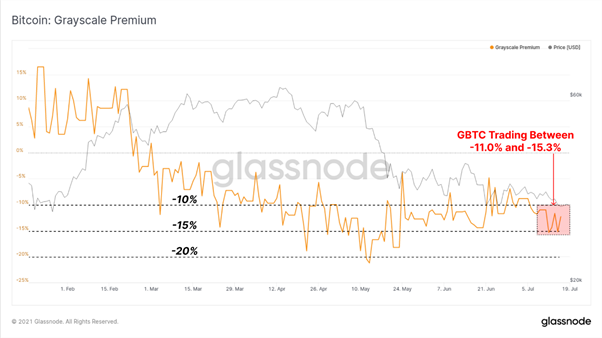 Take the grayscale GBTC as an example. Last week, the GBTC market discount continued to exist, and the discount range was approximately -11.0% to -15.3%. Although it can be seen from the graph that the degree of discount has slowed down, compared to mid-May due to China, the restrictions on cracking down on cryptocurrency miners have caused a discount of up to 20%, but it is still at a discount.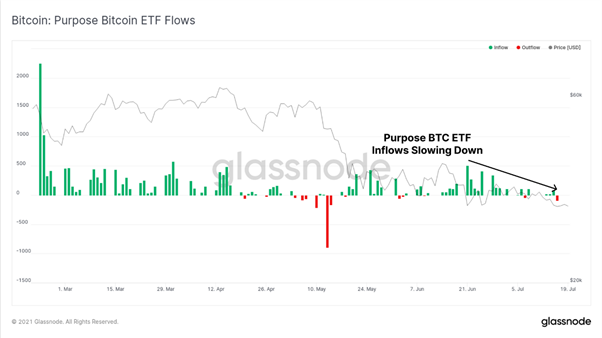 The net inflow of ETFs for other purposes has also slowed down. According to Glassnode data, the largest net outflow this week since mid-May was as high as 90.76 BTC.
Market analyst Edward Moya said that the fear over the virus pandemic had triggered a general panic selling to all the best-performing assets.
The three major U.S. stock indexes, the S&P 500 Index, Dow Jones Index, and Nasdaq Index, all showed varying degrees of decline, closing down by -1.59%, -2.09%, and -1.06%, respectively.
Moya said that:
"If the stock market selloff intensifies, bitcoin and Ethereum will easily extend their declines"
She also revealed that Bitcoin might be vulnerable to a flash crash to the $20,000 level, but this price level should attract many institutional buyers who have been patiently waiting to see.
Image source: Shutterstock