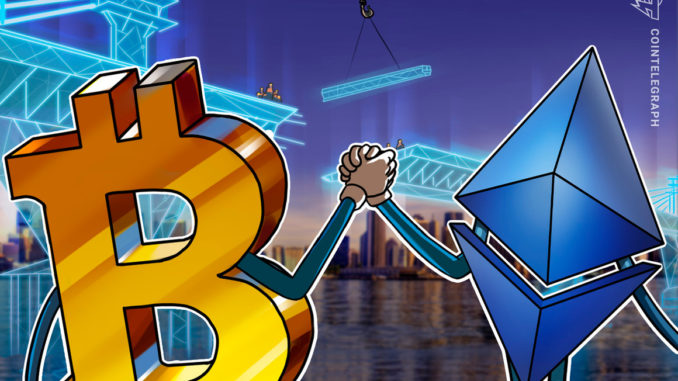 Decentralized finance protocols Badger DAO and RenVM have announced today the launch of "Badger Bridge," a Bitcoin-to-Ethereum bridge that will allow Bitcoin (BTC) holders to bring their BTC to Ethereum and deposit it into yield-bearing vaults, purportedly with a single click. 
"The Badger Bridge is the first of its kind to enable users to earn yield on their tokenized Bitcoin immediately, all while transacting within the same app. What used to be an arduous process to obtain yield on your Bitcoin is now just a few short clicks," reads a blog post from the Badger team. "With the launch of the Bridge within the Badger App, we have taken a significant step towards realizing the Badger mission of being the one-stop shop for users to put their Bitcoin to work."
The announcement notes that since June 2020, RenVM's "wBTC.cafe has been responsible for successfully minting over 25,000 BTC," or $1.3 billion in BTC, to Wrapped Bitcoin (WBTC) conversions. Users of the rebranded Ren bridge are also incentivized with upward of $6 million in BADGER and synthetic Bitcoin DIGG rewards: "Badger is incentivizing the transfer of up to 100,000 BTC ($5B) with nearly $6MM in user rewards to be paid out in 25,000 $BADGER and 100 $DIGG."
"BadgerDAO is becoming the one stop shop for BTC in DeFi, and RenVM is underpinning this functionality by providing seamless interoperability for their users," RenVM chief operating officer Michael Burgess said of the integration. "Together we're truly expanding breadth and utility for that Bitcoin, and all of DeFi."

The integration via Ren notably removes the RenVM branding for the Bitcoin-to-Ethereum bridge/wrapper, redirecting Ren's wBTC.cafe website to BadgerDAO's Badger Bridge page. Ren will continue to provide the infrastructure for the swaps, however.
Burgess said that the decision was driven by an effort to streamline the user experience when it comes to wrapping Bitcoin and using it as collateral in the DeFi ecosystem.
"We wanted to strengthen our relationship with the BadgerDAO team and really make it the go to place for putting your BTC to work, so it's a natural fit. Further, it helps from a UX perspective by consolidating this functionally for users under one roof."
The use of a second protocol on the back end bears similarities to Badger's recent agreement with Yearn.finance to build a WBTC vault. While Yearn strategists developed the vault, access to it is hosted on Badger's website with a small "Yearn" tag, and the two protocols will split the vault's fees. It is currently under a guarded launch, with over $9 million in BTC locked earning an over 125% annual percentage yield.
Badger currently accounts for $999 million in total value locked. Both BADGER and REN are up on the day after weeklong pullbacks, rising 9.28% to $28.91 and 7.86% to $0.8497, respectively.