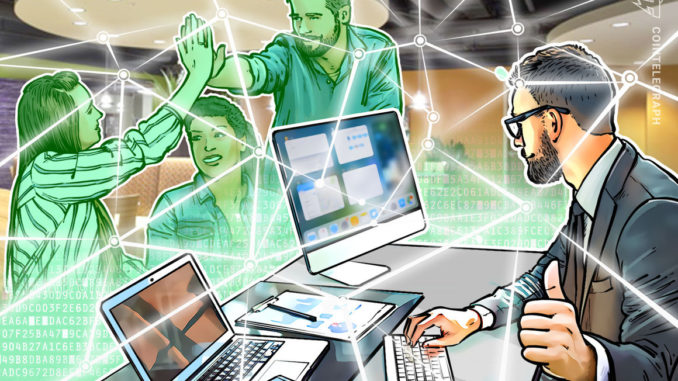 Nonfungible tokens were one of the hottest sectors of the cryptocurrency market from the start of the year until March but as is the nature of the crypto sector, NFTs cooled off significantly in April as the hype died down and high fees on the Ethereum (ETH) network hampered the ability of buyers and sellers to interact with the protocols. 
The challenge of high fees eventually led some projects like Axie Infinity (AXS) and Smooth Love Potion (SLP) to migrate to other networks or embrace layer 2 solutions as a way to help lower costs. This move, along with a drastic reduction in ETH gas fees in the past two weeks could be part of the reason for the strong rally in AXS and SLP over the past week.
Data from and TradingView shows that the price of AXS rallied 83% from a low of $6 on April 25 to a high at $11 on April 29 while the price of SLP skyrocketed more than 1,000% from a low of $0.035 on April 25 to a new record high at $0.396 on May 2.
Several reasons for the recent price growth of AXS and SLP include the migration to the Ronin sidechain for Ethereum, increases in community adoption and a sponsorship from a well known crypto influencer that helped draw new participants to the community.

Shift to Ronin sidechain lowers fees
The most impactful event for AXS and SLP over the past two weeks was the full launch of Ronin phase 2 which required users of the platform to migrate their Axies, which are the in game characters, along with their AXS, SLP and ETH tokens to the Ronin sidechain in order to continue engaging with the protocol.
TIMES UP, LETS DO THIS

Ronin phase 2 is live!!!

Migrate your Axies for a buttery-smooth experience on Ronin, our Ethereum sidechain!

Finally, we control our own destiny.

Full details/tutorialhttps://t.co/ToAkV9H4NO

— Axie Infinity (@AxieInfinity) April 28, 2021
Ronin is an Ethereum sidechain that was originally announced in June of 2020 and is designed specifically for the Axie Infinity community to support scaling and a smoother game play experience for a large number of users.
The full migration to Ronin was completed on April 28 and was followed by the 1,000% rally in the price of SLP.
Crypto influencer shines a spotlight on Axie
A second bump for the Axie community came with the May 3 announcement that pseudonymous digital landowner and crypto whale Flying Falcon had donated funds to the "Sponsor-A-Scholar" program set up by Yield Guild Games, an open gaming community. 
We are proud to announce our new "Sponsor a Scholar" program where benefactors sponsor the SLP to create new @AxieInfinity teams for our player base.@Its_Falcon_Time has generously donated enough SLP to sponsor 50 new scholars into YGG! https://t.co/RHBE4iipUy

— Yield Guild Games (@YieldGuild) May 3, 2021
The move helped draw attention to the fact that Axie Infinity is more than just a collectible game, but rather a growing community that is capable of supporting its members and generating a steady return on invested assets.
Momentum for the AXS token and the Axie Infinity ecosystem has been building for months in anticipation of the migration to the Ronin sidechain.
According to data from Cointelegraph Markets Pro, market conditions for AXS have been favorable for some time.
The VORTECS™ Score, exclusive to Cointelegraph, is an algorithmic comparison of historic and current market conditions derived from a combination of data points including market sentiment, trading volume, recent price movements and Twitter activity.
As seen in the chart above, the VORTECS™ Score for AXS was elevated in the green zone for a majority of the month of April with the system registering a score of 78 on April 25, around 2 hours before the price increased 82% over the next two days.
Now that the Axie Infinity ecosystem has transitioned to a lower fee environment and the number of daily active users continues to grow, AXS and SLP are two NFT tokens that may continue to rally higher, especially as blockchain gaming becomes a mainstream form of entertainment.
The views and opinions expressed here are solely those of the author and do not necessarily reflect the views of Cointelegraph.com. Every investment and trading move involves risk, you should conduct your own research when making a decision.