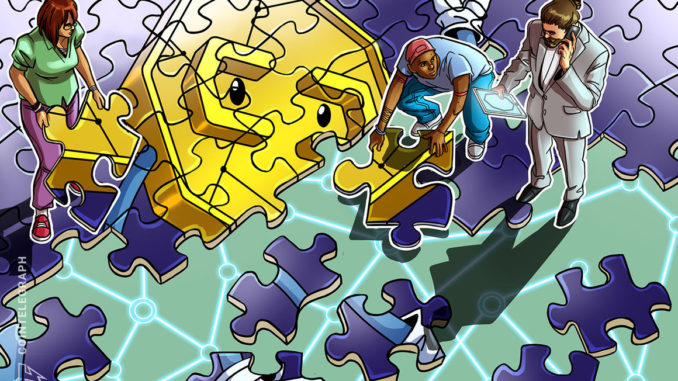 Decentralized finance platform 1inch announced on Thursday a rebrand to "1inch Network" — a facelift designed to better reflect the current and future state of the multichain, multiprotocol platform as it continues to grow, according to 1inch co-founder Sergej Kunz.
"For us it is a logical move. Me and Anton started with just an aggregation protocol at the ETHNew York hackathon in 2019 and now we have the whole ecosystem of protocols, such as: 1inch Liquidity Protocol (prev. Mooniswap), 1inch Aggregation Protocol, instant governance and the 1INCH governance/utility token," he said.
Implementations of the various protocols have also expanded beyond Ethereum, as the team announced a deployment on Binance Smart Chain last month. As such, the natural next step for the project — now the "network" — is more teams, more protocols and more chains. Kunz said:
"This month we plan to rollout a new protocol and another new product on top of the 1inch Network. Two other teams are right now evaluating with the 1inch Foundation to join the network with two more protocols."
The growth strategy appears to be conceptually similar to Yearn.finance's expansion in late 2020. In that instance, Yearn, a yield vault protocol, announced a string of mergers and acquisitions to fold in a variety of complementary protocols, including money market C.R.E.A.M. and decentralized exchange SushiSwap. Those mergers have already proven fruitful, as C.R.E.A.M.'s Iron Bank protocol-to-protocol lending platform is currently being used to bolster Yearn vaults. 

1inch Network is taking a more bottom-up approach to folding in complementary protocols, however. Kunz noted that both teams considering joining 1inch Network are looking to apply for grants via the 1inch Foundation and that other teams are invited to apply as well. Currently, 1inch Labs employs "around" 40 people, and the foundation also pays grants to contributors separately.
The multifaceted growth strategy is part of a wider goal of decentralizing the development of the various protocols to coincide with forthcoming fully decentralized governance via a fork of Compound's governance structure.
"We as core contributors want to see more people and teams participating and contributing to the 1inch Network. Not only one team should be a core contributor, but as many as possible. All the protocols benefit from each other and will use the 1INCH token in its own protocols in different manners."
When asked about the possibility of launching a 1inch Network sidechain on Polkadot, Kunz didn't rule it out, saying that the team is currently "investigating" Polkadot as well as Ethereum layer-two implementations with Optimism and zkSync. Kunz also invited new teams in the network to set up implementations of their own.
Ultimately, the expanded scope and team means 1inch can tackle a variety of initiatives at once, said Kunz.
"We see the approach with multiple teams working on one great network of great products is a scaling solution which allows [us] to go fast."